A Little About DJ Haymaker
My name is Jeff Hay, born and raised in Toronto, and a lifelong music enthusiast (attributed to my Mom and her Neil Diamond and ABBA 8-track tapes). After graduating from the Applied Health/Recreation Program (minor in Psychology) at the University of Waterloo, I was lured West to Whistler by big mountains, big skiing, and good times (*and never went back East). I have called the Okanagan home since 2002 and have been performing events here ever since!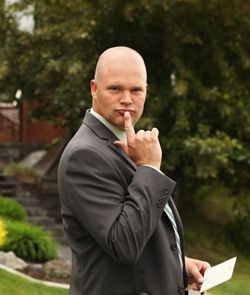 In early 2018, while still performing at 100+ events a year, I finished my Masters in Counselling Psychology.  I am continuing to build a Private Practice as a Certified Couples/Relationship Counsellor here in the Okanagan (and also a Level 3 Certified Gottman Couples Counsellor)  I truly love interacting with people and feel my ability to read people makes me both an effective counsellor but also DJ/MC!  Currently, I work with couples and individuals at www.jeffhay.com!   (As my 7-year-old son declared, "Dad, you can help people before their wedding AND after!  That's crazy!")
I have been an interactive MC/DJ for over 2000 events, dating back to my days living in Whistler, providing music for weddings, private parties, and school dances.
After leaving Whistler, I moved to Vancouver to get my broadcasting degree, I still "DJ"ed on the side to become one of the most requested and referred DJs in Vancouver at some of the swankiest event venues.
After graduating from BCIT inRadio Broadcast Communications, I landed my first radio job here in Kelowna with 9 SUN FM/AM 1150.
As well as operating my own Entertainment company, I do contract work for BC Lotteries as a GAME SHOW host for the popular "Chances Game Show" night.
As a Wedding Specialist and Entertainment Director, I now help plan and deliver music, entertainment, and memories at over 120 events a year(65+ weddings a year).  Along with counselling couples, this is what I do full time – it is not a hobby!
When I am not performing at events, I am a husband and dad.  In my spare time, I am also pursuing my other true passion – developing workshops/keynotes for Couples as well as motivational speaking at conferences!
I also spend time playing volleyball, skiing, Mario Kart Wii, golf, hockey, biking, and finishing other people's crossword puzzles.
A few more fun facts… I am a huge music fan, so when, at your party, your cousin's date asks me, "You know that song, by that guy, it was in the movie, the video has the cow and the Ferris wheel,  y'know.. it's like "ba ba ba baa baaa"…  I will actually know the song AND play it!
I care about the success of your event, and I want all of your guest leaving saying the same thing, "That guy killed it – never seen a MC/DJ like that!  Best wedding/party I have ever been too!!!"
If your family and friends have driven or flown great to distances to help you celebrate, we owe them a great party experience!  You've hand selected your favourite people on this entire planet to come celebrate.
Your wedding (or party) is no different than my own wedding:  we think our guests are all  awesome, but they don't know each other, so I need to help break the ice, get people talking, interacting, and laughing together!   Essentially, my job is to understand your vision and help deliver the amazing experience and create those memories to last forever.  (Who doesn't want the party that EVERYONE compares future parties to?)
I honestly love what I do, and according to past clients, it shows in the energy and passion with which I perform!   Whether you want a fun, energetic, interactive MC/DJ with lots of games and audience participation or a conservative lower-key DJ, I am very adaptable, easygoing, and versatile.
Final thoughts… What I'm "selling" is a great experience and memories for your guests.  Let's fast forward to the week AFTER your event – how are people talking about the party we threw?  "Best EVER?"  "Hilarious?"  "Amazing" "Incredible night!" – that's the best place to start our conversation – I can help you achieve that result!
Please drop me a line and let's set up a time to talk! And if you happen to be visiting or live in the Okanagan, let's grab a coffee and share some ideas for your big night!

Jeff Hay

Jeff Hay and Muhammad Ali
Jeff Hay Bio